Join our Venture Capital Meet and Greet online on Wednesday, July 6th, 2022 from 04:00 PM to 06:00 PM!
Meet Steffen Reinecke from eCAPITAL, investing in DACH and Europe-based startups mainly series A and focusing on deep tech,  cleantech, B2B SaaS, Cybersecurity, advanced materials, and IoT.
If you are a startup looking for VC funding, apply now for a 1on1 with Steffen and learn more about eCAPITAL: https://heidelberg-startup-partners.typeform.com/eCapital?typeform-source=heidelberg-startup-partners.de
If you are just interested in learning more, you may also join the "open-for-everyone" first hour. Use the same link for participating!
We are looking forward to meeting you!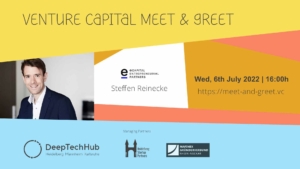 0
0
aruizturro
aruizturro
2022-06-15 15:42:52
2022-06-15 15:42:52
Join our Venture Capital Meet & Greet at Wed, 6th of July with eCAPITAL